Wedding Rehearsal Dinner in St. Pete Beach?
Check out this recent Trip Advisor 5 bubble review! September 13, 2018
"Unexpected Wedding Rehearsal Dinner Venue with Chill Vibes"
"Rick's Reef did a great job of hosting our July Wedding Rehearsal Dinner before our big day up the road at Post Card Inn. Our group had roughly 50 folks ranging in age from newborn to 80-somethings and there were options for everyone. We came on a busy late afternoon in July on a holiday weekend and it was blazing hot with the sun beating down the entire time, but Tyler and his crew worked hard to accommodate everyone and make us all feel comfortable. Their food was fantastic, and he even created a custom short menu just for our party and printed them, too! We had the entire outdoor seating area and dedicated servers and waitresses who made sure everyone was well taken care of. Their smaller scratch kitchen did wonders by cooking our huge group's meals and those for the patrons in the interior section, too, which filled up quickly. Neighboring dining options for a rehearsal dinner didn't fit us – they were stuffy, uptight or dark indoors, not to mention, they required meal minimums at $20pp each and considerably higher. Too much "corporatey" types and red tape. No thank you! Tyler and his awesome staff provided a laid back, fun atmosphere for us thirty-something love birds who wanted some good food, awesome drinks, fun with corn hole and ring toss, and an overall good vibe and time that wouldn't overshadow our beach wedding the next day. Tyler communicated well the entire time by phone/email and we had a very reasonable agreement and deposit amount. We were worried about rain and did not have one drop, but there are roll down walls if that would have been the case. Also, most of our large group just decided to take the short walk from Post Card Inn so that parking at both places didn't become an issue since it is limited at each. Note: diners can smoke at the bar which follows the L shaped outdoor area – ask for interior seating if this might bother you. We didn't take this into consideration and there was no wind, so clouds of cigarette smoke from one chain-smoker lingered around our tables (and grandparents and infant children – yuck!) But of all of the other times I had been there, this was not an issue and is not the fault of the restaurant. Thank you so much for being a part of our big day and our wedding celebration. We also eat here often when in St. Pete – stop by any time for any type of meal or just drinks – it's a great local spot."
Chandon G.
Contact Us to book your Wedding Rehearsal Party in St. Pete Beach
Or consider us for your Wedding Party Venue or Location!
---
The Tampa Bay 100
has just chosen Rick's Reef as one of the three best beach bars in the Tampa Bay area!
---
Rick's Reef in St. Pete Beach, FL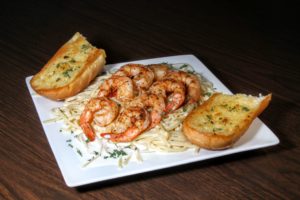 Rick's Reef, in St. Pete Beach, is a casual dining restaurant serving fresh food made in-house, with a fabulous Florida beach feel. There is plenty of covered dining, indoor and outdoor bar seating and the laid-back atmosphere that locals and tourists alike enjoy. Rick's Reef is family friendly, and the covered outdoor areas are dog-friendly as well.
If you're a local you probably already know that Rick's Reef is the best restaurant on St. Pete Beach and already love the terrific food they serve. But if you are vacationing in St. Pete Beach, and looking for a fun, relaxed spot to enjoy great food then Rick's Reef, right on Gulf Boulevard, is your answer.
Breakfast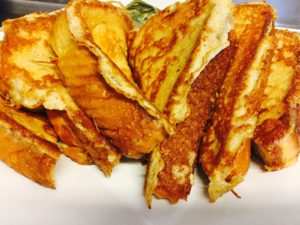 The Best Breakfast on St. Pete Beach can be found at Rick's Reef. That means they have to offer all the usual breakfast fare. Pancakes and French Toast, Waffles and Homemade Chicken and Waffles, Corned Beef Hash, Country Fried Steak and Eggs, and Biscuits n Gravy. But they also have fabulous three-egg omelets with every option you can imagine. And they have a long list of creative Eggs Benedict dishes. Breakfast at Rick's Reef is always created by hand with fresh ingredients!
Lunch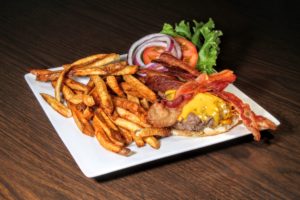 Rick's Reef has an incredible selection of lunch options including Fresh Seafood, Chicken, Pork and Beef dishes, along with great Salads and Specialty Items like Smoked Fish Spread, Lobster Mac & Cheese and smoked in-house Salmon, Pork, and Ribs, you'll find something interesting and delicious no matter what your taste.
Dinner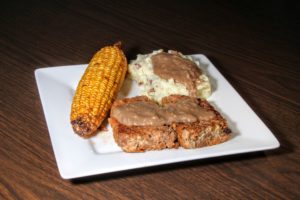 There also is a wide choice of fabulous dinner selections and all of our lunch items are available for dinner as well. From Mile High Meatloaf to Crab Stuffed Grouper, Fajitas to Coconut Shrimp and including Pasta Dishes with any Meat choice you like, you'll find exactly what you are looking for at Rick's Reef.
Old Florida Ambiance
Tucked behind lush palm trees and tropical vegetation, Rick's Reef on St. Pete Beach offers terrific service in a clean and inviting location and handmade food from fresh ingredients. The decorations are fun, and funky, with cool artwork and collectibles decorating the walls and ceilings.  It's a real slice of Old Florida, and the perfect place to bring the kids, or grandma, or all your friends!
Whether you are looking for great food, a fun place to dine, cold drinks or Fun and Games, the place to go is Rick's Reef – St. Pete Beach.