Wedding party venues, or locations, can range from super fancy to casual and fun. If you are looking for casual and fun on St. Pete Beach, Rick's Reef may be a perfect choice. They have a full bar, an extensive menu, and a cool indoor/outdoor space. They can accommodate large groups, and have the staff to provide great service and keep it fun. If you are considering a casual wedding on St. Pete Beach, make a plan to bring it back to Rick's Reef for the party.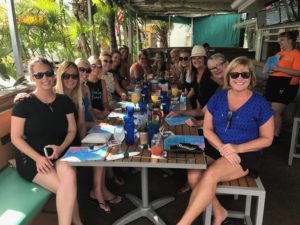 Rick's Reef has years of experience with large groups of all ages. We can accommodate a band or a DJ, or use our jukebox to dial up the music you want. Your Wedding Party will be laid-back, fun and memorable. And we are just a quick walk from the beach.
Beach-themed wedding? Try a beach-themed wedding party at Rick's Reef on St. Pete Beach!