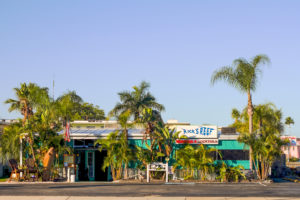 Just 15 minutes from the heart of downtown you can find a fun, casual beach style restaurant with great food and service. It's one of the best restaurants near downtown St. Petersburg and has a true "Old Florida" style. With plenty of indoor and outdoor seating, it's the perfect place for family gatherings or a party with friends. You won't find a better stop to enjoy your visit to the downtown St. Petersburg area.
Rick's Reef serves food made entirely from fresh ingredients. They use unique recipes and prepare everything by hand. They specialize in local seafood and home-style preparations. The dressings and sauces are all made daily in-house. And the staff is knowledgeable and friendly.
Rick's Reef in St. Pete Beach, FL has long been a gathering place for friends and family in groups both large and small. The atmosphere is fun and casual, and the space inviting. With a varied menu and a full bar, Rick's Reef is good for groups and large parties!
There's more to St. Pete than just downtown
The Downtown area of St. Petersburg keeps growing and becoming more vibrant with each passing day. The city is expanding and changing and has so very much to offer to visitors and full-time residents alike, and St. Pete Beach is just a few short minutes away. A visit to the area wouldn't be complete without a little time spent at the beach.
So, when you are looking for the best restaurants near downtown St. Petersburg, be sure to check out Rick's Reef. With its laid-back atmosphere, funky decorations and all around cool beach vibe you won't find a better place to chill out. While it's not right on the sand, it is just a couple of blocks from the Gulf of Mexico on Florida's west coast. There is a full bar, fabulous food, bar games, indoor and outdoor seating and a very friendly staff!