Best Breakfast on St. Pete Beach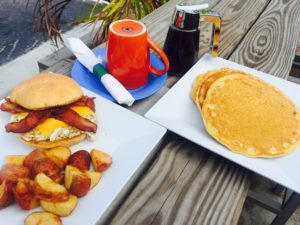 The Best Breakfast on St. Pete Beach is served at Rick's Reef on Gulf Blvd. If you are looking for fresh ingredients lovingly prepared by hand, specifically to your order, you won't find a better option than Breakfast at Rick's Reef. Available every day. Monday – Friday from 7 am to 11 am and Saturday and Sunday from 7 am to 12 pm. The menu is extensive and the dishes are made just right! Not just any breakfast, …it's the BEST breakfast. And don't forget the Bloody Mary Bar and Endless Sangria and Mimosas on Saturday and Sunday 7 am to 3 pm.
Eggs Ben-Addiction!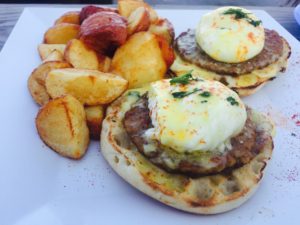 Sure, we've got a traditional Eggs Benedict! But why stop there? How about a Deep South Benedict? Smoked pulled pork and fried onion straws topped with BBQ sauce. Maybe a Crabby Benedict? Crab Cakes topped with hollandaise sauce.  Or our favorite, the Florida Native Benedict! Grouper, sliced tomatoes and spinach topped with hollandaise sauce. We've got eleven different Benedicts to offer! THAT'S Eggs Ben-Addiction!
Omelettes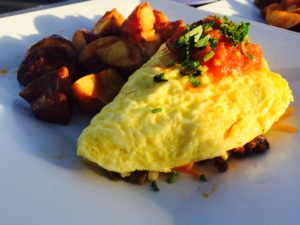 Three egg omelettes? We got 'em! Cheesy, Western, Mexican, Greek or Philly! Love your Veggies? We gotcha covered. Do it Florida style! Or try our Sponge Bob – crab stuffed with onions, peppers, and mixed cheeses. And if you are on the run, wrap your omelette in a tortilla and take it to go! If you are looking for the best breakfast omelette on St. Pete Beach, you're going to find it right here at Rick's Reef. Come check it out!
Traditional Breakfast Favorites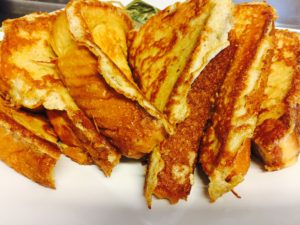 Rick's Reef is committed to providing the BEST BREAKFAST on St. Pete Beach, and that means we have to offer all your favorites. Pancakes and French Toast, Waffles and Homemade Chicken and Waffles, we got 'em all! Corned Beef Hash? Oh yeah! Country Fried Steak and Eggs? Yes, sir! Maybe you're just looking for some Biscuits n Gravy. We have that. Whatever your particular favorite is, we're sure to offer it, hand-made, to your order. And, …as always, …fresh ingredients!
We've got the best breakfast in St. Pete Beach, and all you need to do is come on by Rick's Reef. Check out our menu here.