Breakfast with Santa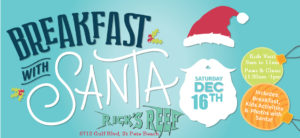 It's Christmas time at Rick's Reef on St. Pete Beach! Come for breakfast and hang out with Santa Claus! Bring your kids and take pictures of them with the jolly fat man! (Bring your camera!)
Rick's Reef will provide a free pancake breakfast for your kids, and activities to keep them in the Christmas time mood. It's going to be a great morning for the whole family. Mark your calendar and join us for the fun!
Breakfast with Santa – Saturday, December 16th, 2017, 8 to 11 am
Paws and Claus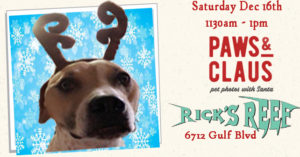 Santa LOVES pets and wants to meet yours! Following Rick's Reef's "Breakfast with Santa," you will be able to bring your pet in and take a picture with Santa. (Bring your camera!) Get that fabulous image of your precious loved one with our favorite Christmas time character.
We understand just how important your pet is to you, and how much a part of your family they are. In some instances, your pet IS your family! So include them in your Christmas time celebrations. Included them in your holiday photos.
Paws and Claus – Saturday, December 16th, 2017, 11:30 to 1 pm